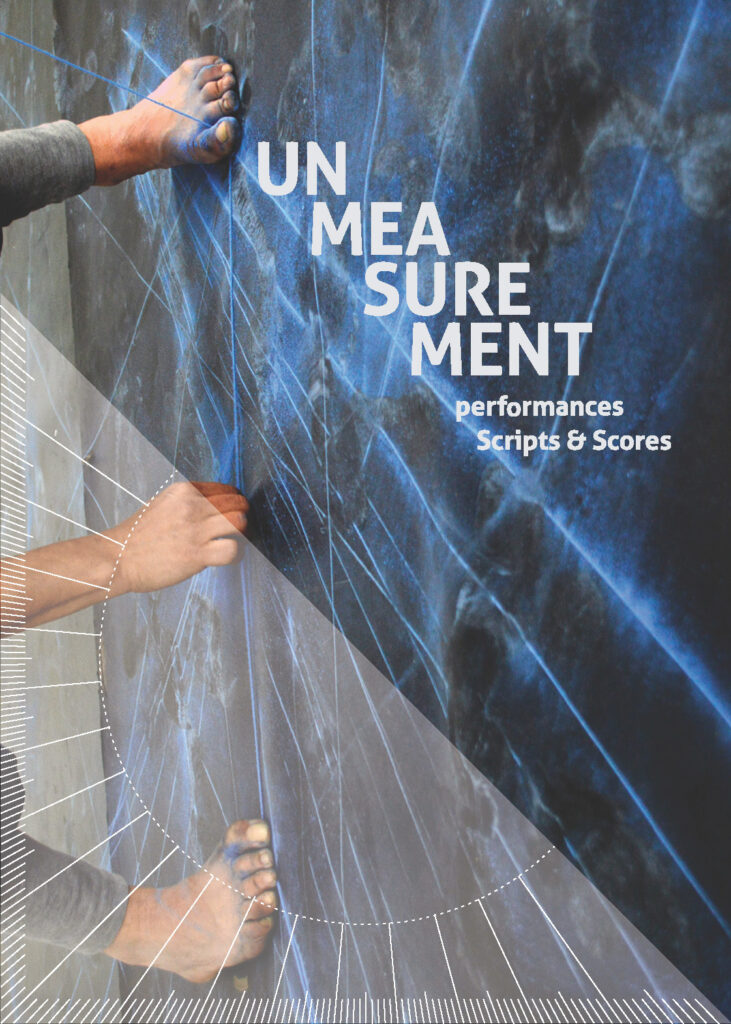 Site-specific Performance Series in Workshops
/ Ortsspezifische Performance-Reihe in Werkstätten
>> für deutsch runterscrollen
EN | For the performance series Scripts & Scores, the performers were guests in various craft businesses and workshops in the Berlin Lichtenberg district. The work actions and rituals, craft processes and tools observed there inspire the development of their own tools and spatial explorations.

for humans from the age of 3, 45 min.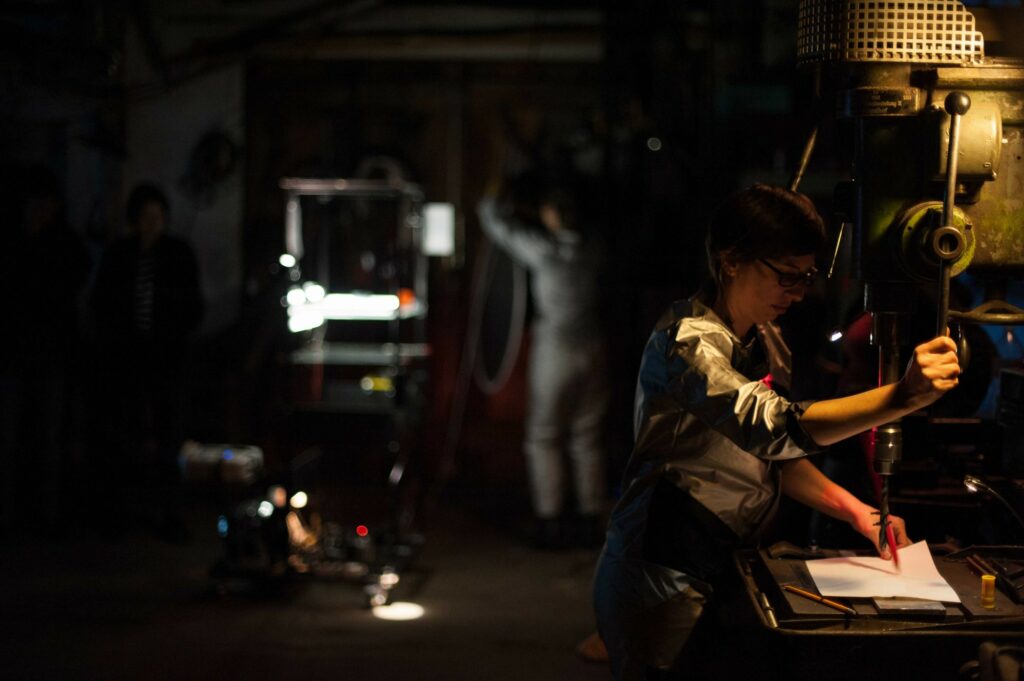 CONCEPT, PERFORMANCE Claire Terrien
CO-CREATION, PERFORMANCE Caroline Tallone, Lena Gätjens
MUSIC Caroline Tallone
COSTUMES, REQUISITE Lena Gätjens
OUTSIDE EYES & EARS Vera Hagemann, Maja Zimmermann, Jana Szotzko, Frauke Niemann, Elena Kakaliaglou, Sophie Watzlawick, Sophie Guisset.
ACCOMPANIMENT DIGITAL TOOLS Samuel Kress
VIDEO Blandine Casen
FOTOS Lena Ganssmann, Martti Kaartinen
PR/PRODUCTION Frauke Niemann
PRODUCTION SUPERVISION Ehrliche Arbeit
A production by Plus Ou Moins Cirque Productions. Funded by Berliner Senatsverwaltung für Kultur und Europa, Bezirkskulturfonds Berlin-Lichtenberg. Supported by Schloss Bröllin, Zirkus Quartier Zürich, Studio Wiesen55 e.V., Dampfzentrale Bern, Ausland-Berlin, Karkatag Kolektiv und Magacin Belgrade, Omnivolant Flying Trapeze Cie, Villa Kuriosum, Ackerstadtpalast, Atelier St37-Berlin, Atelier D&G.
---
UNMEASUREMENT #006 – Serie "Scripts & Scores"- excerpts
---
---
DE/ Für die Performance-Reihe Scripts & Scores waren die Performerinnen in verschiedenen Handwerksbetrieben und Werkstätten im Bezirk Berlin Lichtenberg zu Gast. Die dort beobachteten Arbeitshandlungen und Rituale, handwerklichen Prozesse und Werkzeuge inspirierten die Entwicklung von eigenen performativ genutzten Werkzeugen und räumlichen Erkundungen.

für Menschen ab 3 Jahren, 45 min.
KONZEPT, PERFORMANCE Claire Terrien
CO-KREATION, PERFORMANCE Caroline Tallone, Lena Gätjens
MUSIK Caroline Tallone
KOSTÜM, REQUISITE Lena Gätjens
OUTSIDE EYES & EARS Vera Hagemann, Maja Zimmermann, Jana Szotzko, Frauke Niemann, Elena Kakaliaglou, Sophie Watzlawick, Sophie Guisset.
BEGLEITUNG DIGITALE WERKZEUGE Samuel Kress
VIDEO Blandine Casen
FOTOS Lena Ganssmann, Martti Kaartinen
PR/ÖFFENTLICHKEITSARBEIT Frauke Niemann
PRODUKTION SUPERVISION Ehrliche Arbeit
---
past dates:
UNMEASUREMENT #006
im Atelier D&G
Sa. 19.10.2019 – 20 Uhr
So. 20.10.2019 – 18 Uhr
UNMEASUREMENT #007
im St37, Atelier für Eisen- & Feuerarbeiten / BLO Ateliers
Sa. 26.10.2019 – 20 Uhr
So. 27.10.2019 – 18 Uhr
-für Menschen ab 3 Jahren-