Ongoing & Coming soon… projects.
———
# FELDMESSUNG
Production for a young audience and all others / Première in March 2022
"Feldmessung / Arpentage / Surveying" is a performative project that playfully questions measurement processes and highlights their possible inaccuracies and failures. In order to define spatial boundaries and explore certain laws of fundamental physics, the performers play with their own bodies as well as with working tools. Through acrobatic movements, tensions of ropes, experimentations with lights and the manipulations of objects, the performers develop their own method of measurement and take their audience into a world where science and poetry are intertwined.
[>> link performance]
A production by Plus Ou Moins Cirque in cooperation with FELD Theater, Le Cube / Cie La belle Meunière (FR).
Granted by Hauptstadtkulturfonds, Fonds Transfabrik, Fonds DAKU #TakeCareResidenzen, flausen+ Netzwerk and supported by Arts Printing House Vilnius (LT), Schloss Bröllin, Tanzfuchs PRODUKTION.
**Residencies:**
– January 2022 @FELD Theater Berlin
– February 2022 @Le Cube / Cie La belle Meunière in Hérisson (France)
– October 2021 @Arts Printing House / menus spaustuve in Vilnius (Lithuania)
[>> fotos on the blog]
– July 2021 @FELD Theater Berlin
[>> fotos on the blog]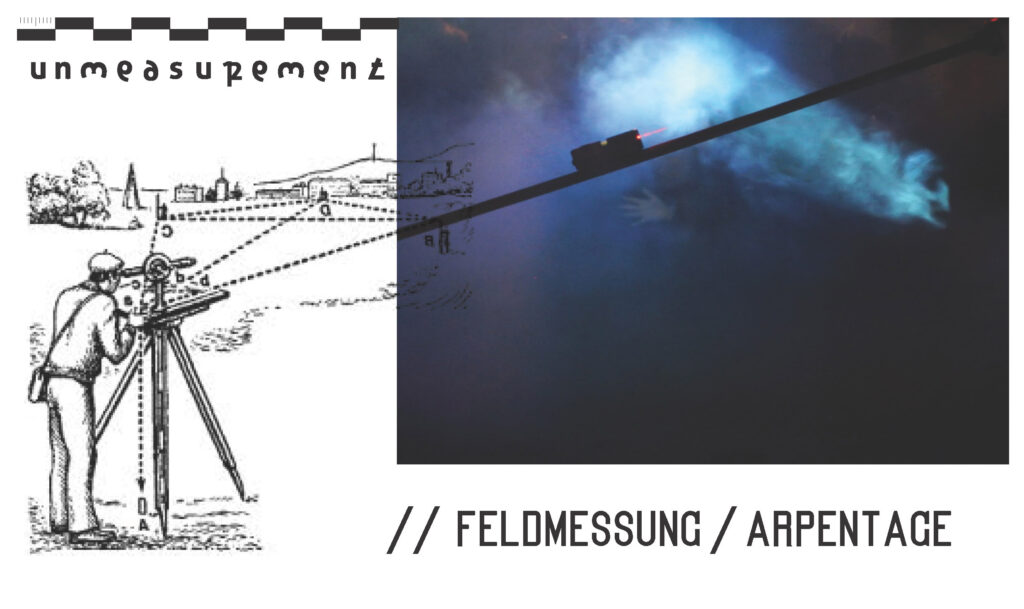 ---
# STRAßENUNTERHALTUNGSDIENST / Baustelle Nr.01
Staub und Circus / Site specific Performance
>15. & 16. & 17. September 2021, 19 Uhr/ 7pm, @Revier Südost
We are surrounded by architecture, but we often ignore how is it planned and built. How does a drawing evolve into a construction? The site-specific performances of UNMEASUREMENT investigate this process.
Performance: Jule Knaust, Franziska Pack, Marie Lynn Speckert, Dan Su, Claire Terrien
Granted by Fonds DAKU #TakeAction and supported by Reviersüdost, Schloss Bröllin.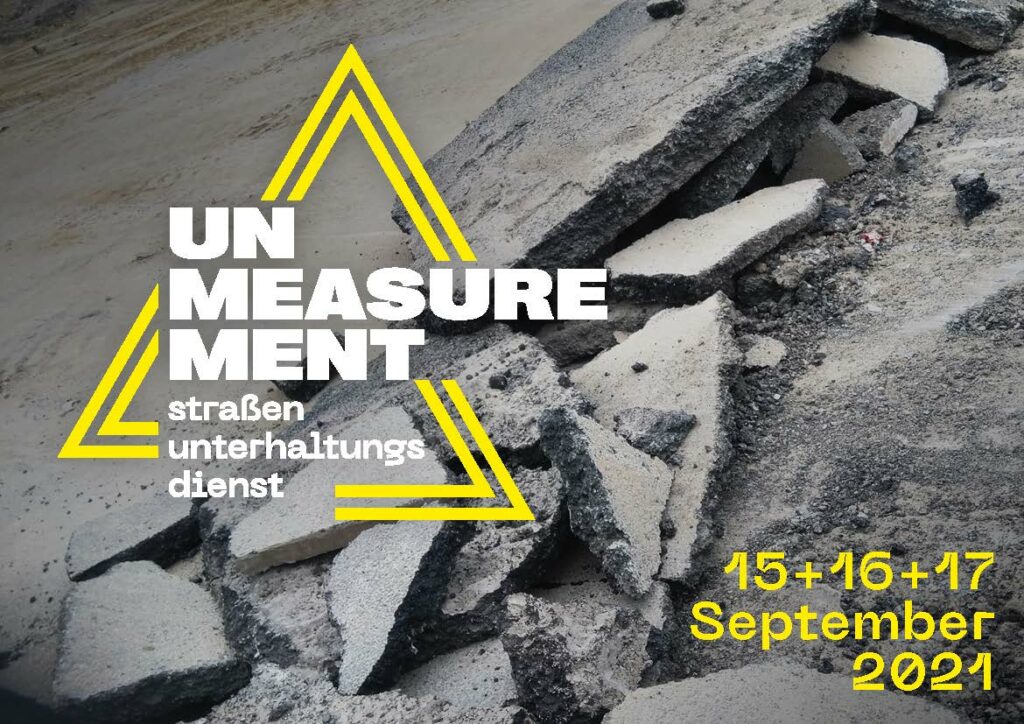 [ >> link performance]
---
# exhibition DYSTOPISCHE IDYLLE
Mai/Juni 2021 @ Kunstraum m3/berlin
Six households related to artistic practice, come together after a year of lock down, growing uncertainty and apocalyptic visions. The purpose: to rearticulate by free means, and within a small exhibition space, different interpretations of what they experienced on emotional and personal levels. What might they tell us about their perception of space and time after this not-so-subtle change of paradigm? What was, and is, their relationship to a Dystopia that hardly feels as real from our privileged context on a privileged geolocation? Why we elaborate and fantasize more than ever with the end of our time while choosing to ignore our role in the process of self-destruction?
**An exhibition by:
Blandine Casen / Caroline Cecilia Tallone / Ana Maria Millán / Daniel Desiderio Páez / Ephemeral Tomorrow / Luis Bustamante + Sofia Clonn
*featuring "Hommage an Xenakis":
Filmed from 14m high in the flying trapez silo in Bröllin, the performance is a trial of space composition starting from the partition Metastaseis (1953) mesures 317-333 by Iannis Xenakis. Both the performer (Claire Terrien) and the musician (Unterlala) took this partition as a common starting point for improvisation.
**Opening Times: Thu – Sa. 16:00 -19:00**
---
past dates 2020
——–
#Unmeasurement – Scripts & Scores #009 – APPARAT
April 2020 – Bochum @[ZEITZEUG Festival]>>> cancelled !!
——–
**Residency @ Pathos Theater  – 24. 02 – 29. 02. 20
# Unmeasurement – Scripts & Scores #008 – Unmeasuring PATHOS THEATER
Sa. 29.02.2020 – 20 Uhr: Showing @ [Pathos Theater]
——–