Join Club Thikwa
Image Video für die Theaterpädagogik des Thikwa Theaters.

Konzept: Saskia Neuthe & Blandine Casen / Regie: Saskia Neuthe / Kamera & Schnitt: Blandine Casen / Musikkomposition: Marcello S. Busato (feat. Antti Virtaranta)
Das Zeitalter der Minimantis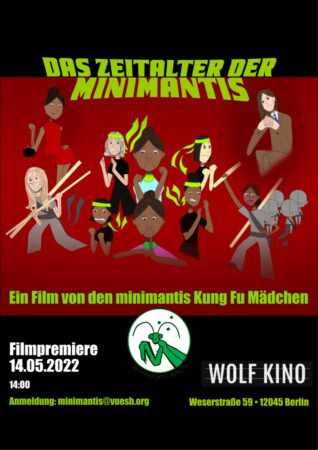 Kung-fu film (15min) produced with the Minimantis crew thanks to Johanna David. Berlin 2021-2022.
Plankton TV
Shortfilm about microscopic planktons. A crew of planktons drifting in the ocean tries to broadcast their pirate music show in form of bubbles
Production of Mottili Theater, Berlin 2021- 2022
Amazonen, Suffragetten und Punketten
Video clip of Option Weg
Berlin march 2021
Cadavresque
This exquisite corpse was conceived collectively in April 2020, during the Covid 19 outbreak in Berlin.
OFNI – La Fêlure
Objet Filmique non identifié – La fêlure
Berlin 2017 Objet Filmique Non Identifié – compagnie la fêlure
featuring Rieko Okuda
Villa Kuriosum Berlin, Septembre 2017
Tutorial: Metall bohren
Berlin, July 2020, für "she*fix"
Ein Loch im Metall bohren – Anleitung für Anfänger*innen: Welchen Werkzeug und auf was ihr achtet sollen…. Viel Spass, make holes everywhere!!
Welding Performance
Welding and Music Performance in the Villa Kuriosum, Berlin September 2015 with the participation of: Ememe and Marcello S. Busato (Music performance) Claire Terrien and Julius Lanke (welding performance) Blandine Casen and Nicolas Berger (camera) Nathalie Ponneau (sound recording)
soeurs – la fêlure
video, compagnie la fêlure
texte issu de "nos cabanes" de Marielle Macé.
El baile del Chontaduro
El baile del chontaduro,
A Documentary about the "Chontaduro's Dance" in the colombian Amazon for the indigenous community's archives. On the idea of Rafael Castellanos and Jose Muca in Leticia, Colombia, 2015
Cameras: Manuela Henao Osorno, Blandine Casen
Video Editing: Blandine Casen
Sound Editing: Marcello S. Busato
Production: Rafael Castellanos
La quête de la mariée
RAW Tempel, Berlin, 2008 Video by Dr Floy / KalmaT